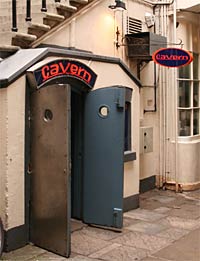 It was early 95 and myself and a group of mates went to see a little band called "Menswear".
Well that was it for me for the next 3 years, i slept, breathed and ate Britpop.
From that 1st gig i was a Cherry red Doctor Martin wearing Britpoper always searching record shops for that latest coloured vinyl.I remember Menswe@r was supported by either Thurman or Powder or i even think it was both!.Despite what has been said about Menswe@r i always have thought of them as a great band and have great memories of seeing them at the Cavern and then at the Glasto festival later in 95 (More about Glasto 95 to come).
I remember them on the front cover of Melody maker and they didnt even have a single out yet, the article was all about the start of the new mod movement which never really happened ( apart from bands like the weekenders and These animal men amongst others) and basically turned into Britpop.7 singles and 1 album later they disbanded at the same time the scene started to die.They did have a 2nd album in the pipeline which was never released (apart from i think in Japan) called
"

Hay Tiempo" which had a more trad rock sound to it!

.
Ill always remember "
Hollywood Girl" being belted in my ears by the huge speakers at the front of the stage and singing the words on the trip home to the train station.
One of the best bands of the era and to whom I dedicate this blog to.....